If you missed Part 1: Expotique & #RunnersLove Meet-Up Recap
Last Sunday around 5:15 AM, I woke up both excited and curious about how the next few hours would go. I felt great and hoped my knee would carry me through my 13.1 miles that morning. Robert and I made our way to the metro and arrived at the start area without any problems. Nike made sure there were plenty of bagels, coffee, tea, water, and porta-potties in the area – they had a bag check as well, but since Robert was a spectator for the race I did not need to use it. I met up with my friend Karen who was also running and we chatted, stretched, and warmed-up while we waited for the 7 AM race start to arrive. It was a chilly morning for standing around, but I was easily able to keep warm by doing some dynamic stretches, jumping jacks, high knees, and butt kicks!
Nike officials were VERY strict about closing the corrals on time, so they made sure all the ladies (and a few good men!) were lined up by 6:50 AM (if you run this race in the future, you do NOT want to be late). Also, make sure you wear your pace bracelet – it is your ticket to get to you're pace corral. I was in the 9:30-10:30 min/mile corral. I said good luck to Karen as she made her way further up to the start line, a couple corrals ahead of mine!
Race Start: Photo from the Run Nike Women's Series Facebook Page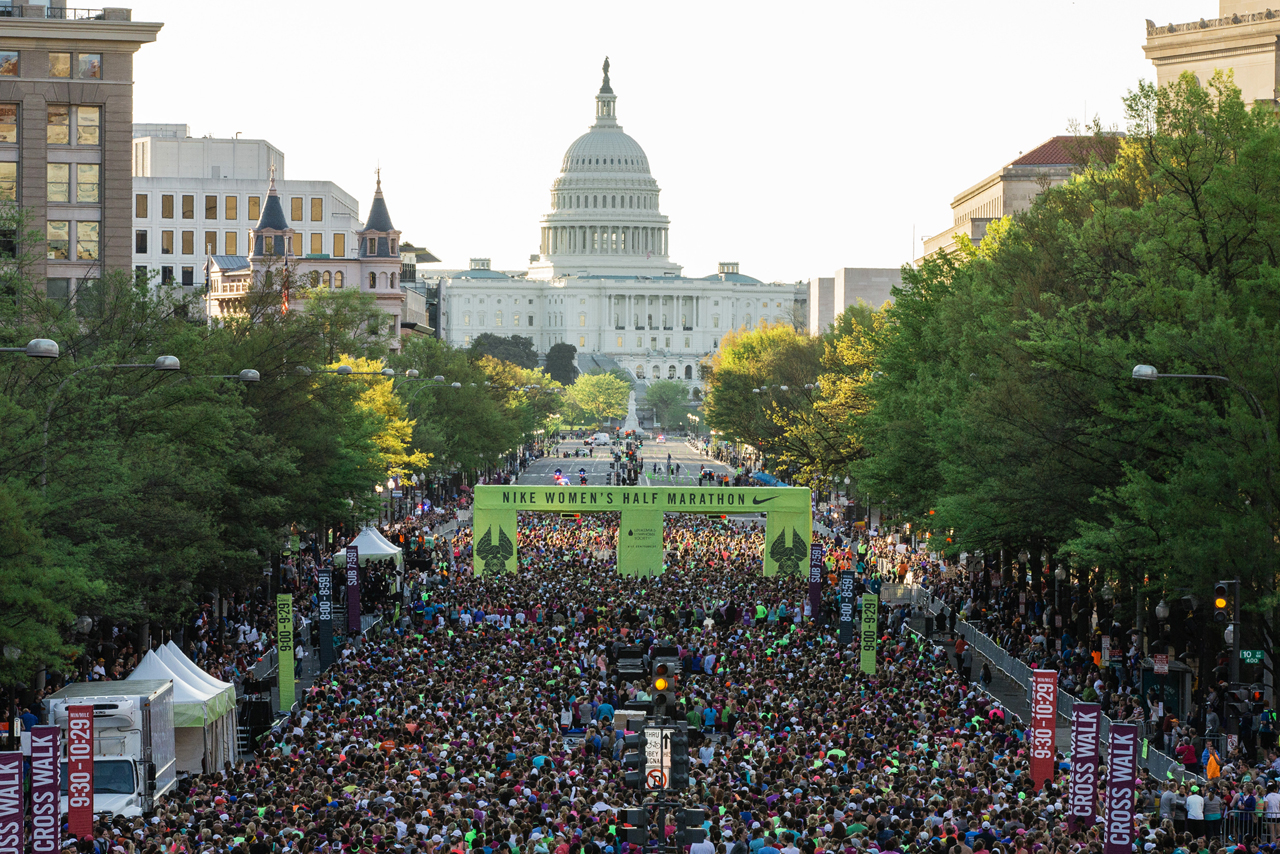 View of the Start Line from the Corral
Photo before heading to my Corral
Before I knew it, it was time to start! They counted us off at 3…2…1 and off we went, straight towards the Capitol Building. The spectators were incredible, and I saw so many great signs! A couple favorites that I remember are "You run better than our government" and "Keep running if you've ever felt personally victimized by Regina George" (I love Mean Girls references haha)!
Picture Robert took at the Steps of the U.S. Capitol
I wish I could describe in words (or even photos – but I did not run with my phone or camera) how picturesque the course was – there was almost always something to admire. The blooming cherry blossoms were stunning! We ran by the Capitol building (where I saw Robert), the Washington Monument, Lincoln Memorial, across the Arlington Memorial Bridge, and all along the Potomac River. They had a couple professional photo stops, which they even told you were coming up so you could get ready for a pose! There were also many high school and college bands, cheerleaders, and dancers playing music and cheering for all the runner's. At one point we ran underneath a very long tunnel which was awesome for two reasons – 1) They had the 'WE RUN' sign in there, so the tunnel was glowing with a Tiffany blue hue, and 2) There were percussionists playing so the drums and beats echoed throughout the entire tunnel. It was very cool!
Me smiling at Robert – After running through the tunnel on the way back
My knee seem to be holding up for the most part, for which I was grateful, and I was truly enjoying the experience. I was not trying to PR, but my pace still happened to be on target for a great time. However, around mile 5.5 disaster struck. It began with a twinge and a tweak every few seconds and turned into full blown pain. My entire left leg felt like it was going to completely give out. I held back what would have been a waterfall of tears and stopped to walk, praying to God to just let me finish this race. The pain lessened after a few minutes so I started running again, but with much shorter strides. I suddenly become extremely aware of my posture as well. Concentrating on my form and short strides helped ease the pain immensely and I was able to press onward.
The pain arrived and left randomly, and I stopped only to drink water and Nuun at the fuel stops. My physical pain had NOTHING on my mental strength. The miles flew by and I enjoyed every single moment of that race, painful or not – even at one of the later photo ops I still had a huge smile on my face!
It didn't take long to arrive into the last couple miles, and around mile 11.5, there was a chocolate station sponsored by Whole Foods! They were handing out chocolate truffles to all the runners which, being a choco-holic, made me very happy! I grabbed three and put them in my SPIbelt for after the race. I continued to run and passed Robert about a mile later, and then again right before the finish. Seeing him cheering for me gave me an extra boost of speed to the end! When I made the final turn and saw the finish line, I felt a lot of contradicting emotions – the course was so incredible I never wanted it to end, and yet I was so ready to be off my knee. Either way, I crossed the finish proud of myself for staying strong throughout the race!
Crossing the Finish Line
Immediately I found Robert in the crowds to the side and he gave me my phone so I could take a few photos on my way through the finisher's area. I picked up my water bottle (which was already filled with water), bag of post-race goodies, Mylar blanket, and the beautiful little blue box that held my 'medal'!
Silly Post-Race Selfie
Post-Race Snacks
Once I met up with Robert, we headed to the merchandise tent where I purchased a Finisher's shirt (I love the color!), and then to the race result booth so I could check my time, which turned out to be 2:11:06 – not bad for an injured girl, haha! That being said, I'm still taking a break from running and racing until I am fully healed.
Race Stats
Overall Place: 5006/15282
Division Place (F25-29): 1443/4010
5K Split: 30:41
10K Split: 1:00:42
15K Split: 1:32:28
20K Split: 2:05:04
Chip Time: 2:11:04 (10 min/mile Pace)
It almost goes without saying that I would very HIGHLY recommend this race to everyone. It was a beautiful course with incredible spectator support. The organization was top-notch, and the fuel stations were plentiful and fully stocked with water, Nuun, and porta-potties. Clif Shot Bloks were handed out at mile 5.2, and Luna Mini Bars at mile 9.3. I don't think there is anything they could have done differently for my own race experience – the only issue I had throughout the entire weekend was the lack of restrooms at the Expotique. So with that I say, GREAT job Nike!
QOTD: Have you ever done a Nike race event? If not, is it a race you would like to run?