I have been a fan of The Biggest Loser for years. While most reality television bores me, this show (no matter how scripted) actually sparks my interest due to the fact that these people really are changing their lives for the better. After this week, though, my opinions of the show have been completely de-railed…
On Tuesday night, the season 15 finale of 'The Biggest Loser' was broadcasted live on NBC with millions of people tuned in to watch. Most of the contestants looked happy and healthy, and had their lives on a much better track after their months-long journey towards health and fitness. Finally, the last contestant to reveal their weight loss, Rachel, walked on stage and well, my heart sank. I think the shocked looks of trainers Bob and Jillian say it all…
Rachel ended up winning $250,000 as well as the title of 'Biggest Loser,' and by now I am sure most people have read numerous accounts of the controversy surrounding this young woman. She started out at 260 pounds when she arrived at the ranch, and weighed in at 105 pounds at the finale. That is a weight loss of 155 pounds (60% of her body weight)! Honestly, I thought she looked incredible (and very healthy) during her last week at the ranch, and I figured she wouldn't lose much more after that.
What is disconcerting, though, is that she has stated how proud she is of her weight and has reached her maintenance point. She claims that she got there in a healthy way – by doing a lot of cardio, eating 1,600 calories per day, and following the advice and support of The Biggest Loser's medical team. While I am so happy for her (and every contestant's) accomplishment, I honestly do not believe that her version of 'in a healthy way' is as healthy as she thinks it is.
Rachel (left to right): Starting weight, Makeover Week, Finale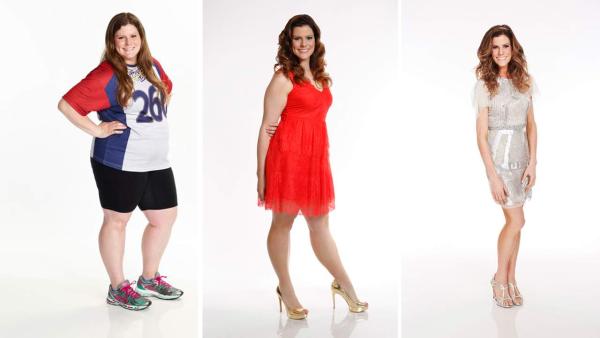 Why do I think that? Well, let's take a quick look at the science of weight maintenance. According to this 'daily calories calculator' from Runner's World online, Rachel's current weight of 105 pounds and height of 5'4" is maintained by eating 1,559 calories per day. That's if she is SEDENTARY, which we know she is not because she has clearly stated that she gets plenty of exercise. With moderate exercise, she needs 2,014 calories per day. Let's assume that she burns an average of 300 calories per day through exercise. That gives her a net calorie intake of 1,259 – 755 calories UNDER where she should be for moderate exercise, and 300 calories under what she needs if she were completely sedentary!
I realize that, publically, the show, trainers, and pretty much anyone under contract with 'The Biggest Loser' have probably been instructed to handle this situation with extreme political correctness. They are either declining to comment (see below for Bob and Jillian's tweet) or showing their support for Rachel. I hope that behind the cameras, though, Rachel is getting the help she clearly needs. There are impressionable young women (and men) out there who WILL think that being under weight is what makes you successful and/or beautiful. I truly hope that the future of this show does not head down the path of continuing the already media-tainted view of how a person should look.
I know there are many opinions regarding this situation, and I in no way am trying to take away the hard work done by Rachel or the other contestants. I wrote this post out of genuine concern. I honestly just think that she crossed a line, and I encourage anyone out there who has a desire to lose weight to do so with a goal towards being fit and healthy, NOT just seeing a low number on the scale.
QOTD: What are you thoughts on Rachel's weight loss?