Marathon Training Countdown – 11 Weeks Down, 7 Weeks to Go!
First and foremost, congratulations to everyone who participated in this past weekend's runDisney races for the WDW Marathon! Whether you did one of the races, or all 4 for the Dopey Challenge, GREAT job!
This week's workouts went well for the most part. Unfortunately I woke up on Monday with an ear infection. I went to the doctor to get it to feel better, and needed to rest that evening, so I ended up missing my 4 mile run that day. Better safe than sorry, though! I felt better Tuesday, thank goodness, so my Wednesday and Thursday training runs were fine.
Saturday, I woke up to absolutely perfect running weather (I was able to wear a short-sleeved shirt!) and met up with my Team RWB running group to tackle a 15-miler. I went into it with confidence and, though my legs were definitely tired, I finished with a great pace! My running buddy that day definitely kept me motivated the whole way; we spent a lot of the time quoting random one-liners from the movie Top Gun – it was a lot of fun! Plus I wore my 2013 Princess Half Marathon shirt, and one of my Rapunzel bracelets Robert got me for Christmas, for some extra motivation.
Before I headed out to run Saturday
Saturday I wore the bracelet that says "The Magic Within"
Saturday's Long Run Stats – Pretty proud of my average per mile time!
Also new this week, I have officially joined the social media network – I have created a Facebook Page AND a Twitter account for my blog! You can find the links below, or on my left sidebar column under the 'Contact Me' section.
Facebook:
https://www.facebook.com/LaurensGlassSlipper
Twitter:
https://twitter.com/LGSBlog
I really am excited about both of these new additions for my blog – I will be live posting/tweeting from Disneyland for the Tinker Bell Half Marathon this upcoming weekend!
My workouts this week:
Monday: 4 Mile Tempo Run Sick
Tuesday: Stretching & Foam Rolling
Wednesday: 6 Mile Easy Run (Pace: 10:30 min/mile)
Thursday: 4 Mile Easy Run (Pace: 10:00 min/mile)
Friday: Yoga
Saturday: 15 Mile Long Run – Longest run to date!
Sunday: Stretching & Foam Rolling
Monday Motivation (photo from the runDisney Twitter page!)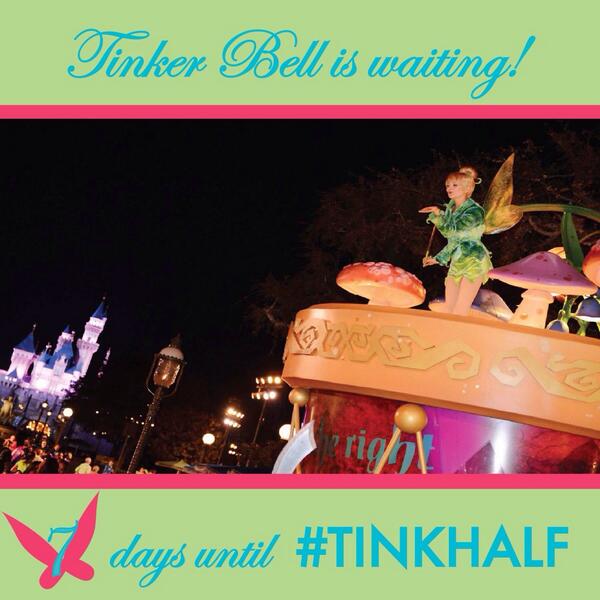 QOTD: Do you have a Facebook page or Twitter account for your blog?